Toll Free: 602-439-7176
Customer Service 602-439-7176 | Hours: M-F 8AM - 6PM PST Email Us

Print Perforated Cards
Print Perforated Cards with perforation tear off on 14 or 16 point card stock with uv gloss or perforated flyers with aqueous (aq) coating on 100lb book or cover weight at sizes 3.5 x 11, 4.25 x 11 and 3.5 x 3.5.
Our standard Rip Cards include 1 straight perforation 2 inches from the bottom edge.
More convenient than ever, Rip Cards are a perfect 2-in-1 promotion piece to get your name out and your customers to easily remember you. Rip Cards have a perforated business card on the bottom, where your customers can easily Rip and store. As well Rip Cards offer a multitude of uses such as membership cards, coupons, raffle tickets, appointment cards, etc. Use the post card area to pass on information and the Rip section to make a remarkable statement.
Giving you more flexibility, Rip Door Hangers give you an extra edge on the standard Rip Cards. An amazing 3-in-1 promo piece, giving you the functionality of a door hanger while passing on information about your company and allowing your customer to conveniently receive and store your business card. This is truly a unique product giving you the extra edge in marketing your company, product, event, etc.
All Matte/Dull products will be printed with a matte coating on both sides.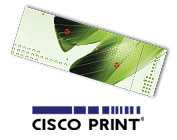 Cisco Print is an industry leading provider of color print media products.