Toll Free: 602-439-7176
Customer Service 602-439-7176 | Hours: M-F 8AM - 6PM PST Email Us

Print on Linen Texture Paper
Print Linen textured business cards, postcards, envelopes, greeting cards, letterhead, presentation folders and more sizes.
All Linen stock is 30% recycled material.
Linen Text and Cover allows your print products to gain a unique feel and texture. It can enhance the appearance of your business package and will certainly make a grand impression.
Available on a variety of products.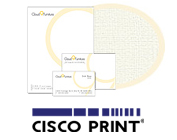 Cisco Print is an industry leading provider of color print media products.