Toll Free: 602-439-7176
Customer Service 602-439-7176 | Hours: M-F 8AM - 6PM PST Email Us

Print Envelopes
These envelopes are custom printed full color on 70lb paper stock that is uncoated and comes in either textured linen or smooth premium uncoated text. They are printed 1 sided which include the "outside" of the envelope, the face and the flaps. You can choose to print your envelope with or without a window. We print envelopes in 3 different sizes:
Lee (greeting card envelope): 5.25" x 7.25" that holds size 5.125" x 7"
Number 10 (business envelope): 4.125" x 9.5" that holds size 4" x 9.25"
Booklet (booklet envelope): 9" x 12" that holds size 8.75" x 11.5"
If you need a file set-up template for the envelope please click here.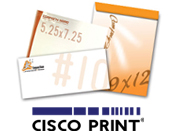 Cisco Print is an industry leading provider of color print media products.